The Ultimate Eyeliner Guide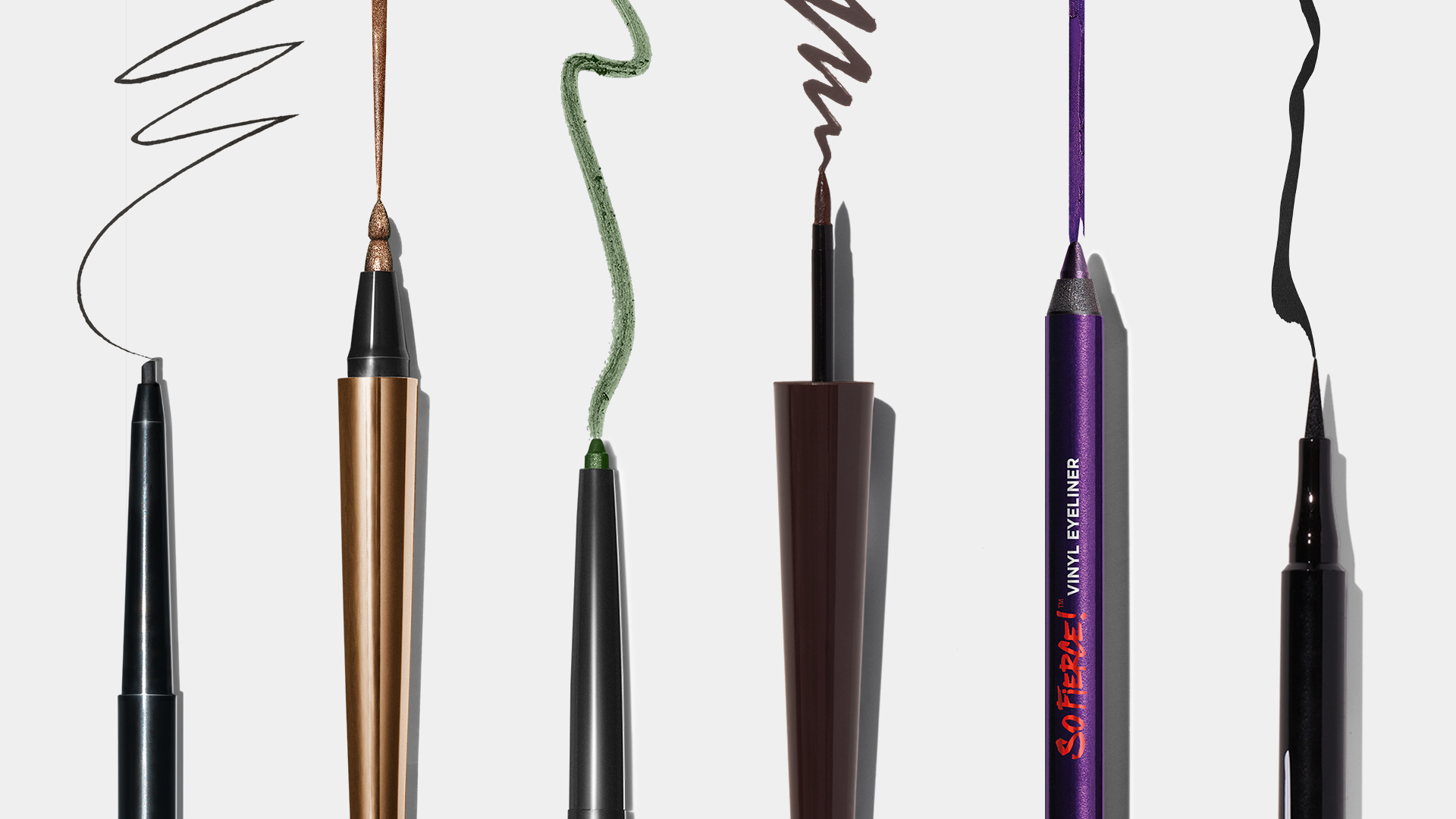 Right now, eyes are where it's at. Which means you may be experiencing Eyeliner Overload - but no need to get overwhelmed. Figuring out which liner is perfect for a cat eye vs. a smoky eye. vs. a doll eye doesn't have to leave you feeling winged out (that's another eye look btw.) We're going to outline the right eyeliner for every look out there. (Well, 89% of them anyway.) Consider your eyeliner I.Q. about to be raised.


So Fierce! Chrome Ink Liquid Liner: Metallic Lines for playful flares or winged-looks
You know how you can bling your car for a cool, lust(er) worthy, chromed-out look? This liner does pretty much the same thing, but for your eyes. Inspired by the gleam of precious metals,
So Fierce Chrome Ink Liquid Liner
is enhanced with multi-dimensional pearls and some high-beam shimmer to give your eyelids a reflective finish that borders on hypnotic. A plush, flexible marker tip lets color go on continuously - no stopping and starting. The Easy-Glide formula makes drawing smooth, clean lines, well, easy. And the dip-ink cap keeps the tip saturated, so the color stays fresh and won't leave your eyes looking high and dry.
How To Use:
Glide the pen gently along your lash line or over your lids to create a bold look. Dip the pen in the ink cap if you want to add more color.
So Fierce! Vinyl Eyeliner: Glossy, Lacquered Lines for an extreme graphic effect, or abstract shapes.
Let's get something straight right here and now, shy timid types
do not
wear vinyl. Patent leather? Perhaps. But vinyl is an absolute no-go. (And that goes
double
for on their eyes.) However, if you are totally comfortable being the focal point of all eyes, in any room, then by all means, get your
So Fierce! Vinyl Eyeliner
on. To be clear, we're talking super-glossy color for bold, super-pigmented lines - definitely
not
for the shy of eye. Plus, a gel formula that creates a shine that looks liquid-slick even when it's dry. Oh, and it's waterproof and smudge-proof, so once you've got it goin' on, as they say, you've got it goin' on and on and on.
How To Use It: Apply to your upper lashes, or lower lashes, or even both if you want to take your look gorgeously over the top. And if you're really looking to line your way into uncharted territory, apply to your upper lash and smudge the lid for a hot take on the new grunge smoky eye look.
ColorStay Eyeliner: Soft, smoky lines, or intense, smoldering lines
There's something so utterly timeless, and it must be acknowledged, dangerously seductive, about a smoky eye, Maybe because it's tried and true without being the least bit expected. Or totally familiar, but never boring. No surprise then, it's the most sought-after eye look out there. Of course, it does take a but of blending to get your line smoldering and the smoke blowing in the right direction (so to speak.) Luckily,
ColorStay Eyeliner
can do the boldest of lines
and
blend easily, so there's no need to set off the smoky eye alarm. Add 24 hour, comfortable wear that's also waterproof and you've got the definition and drama that's almost too hot to handle - all from one hard-working pencil.
How To Use It: Start from the inner corner of your eye and work outward, gliding the pencil slowly right above your lashes for an intense line. Then flip the pencil around and use the smudge tool to diffuse the color upwards on your eyelid for a few seconds before the formula sets. It's up to you how far you want to take it. Just remember-where there's smoke, there's fire.
ColorStay Micro Hyper Precision Gel Eyeliner: Skinner than Skinny Lines or blurred-out lines
There are those detail-oriented perfectionists among us who thrive on demanding the most exacting results from their eyeliner. And it is for these eyeliner taskmasters that the
ColorStay Micro Hyper Precision Gel Eyeliner
was invented. As you've most likely gleaned from its name, this liner creates hyper-precise lines by way of a super thin micro-tip. How micro are we talking? The tip measure 1.5mm in width - the thinnest tip we've ever crafted! It also has a gel formula that lets you draw impeccably defined lines. And if you're feeling a bit less regimented, you can get a slightly blurred line by using the rounded sponge smudger on the opposite end. You call the shots (as usual).
How To Use It: Twist the liner until a little bit of color shows at the tip. Glide wherever you want to define your eyes. For a smoky look, flip the liner and use the smudger tool.
Pro Tip: Keep the ultra-fine tip short and be gentle while applying the creamy formula to avoid breaking the tip.
ColorStay Liquid Liner: Ultra-fine or dramatic lines that stay all day
In the world of mathematics, a line is said to have no beginning and no end. In the world of eyeliners, this 16 hour line comes pretty close to being endless. Add to the equation the fact that with
ColorStay Liquid Liner
you can get a thin, ultra-fine line, or a thick and dramatically bold one, and the eye looks you can come up with border on limitless. (But the best part just might be all-day wear that feels nearly weightless.)
How To Use It: Draw along your lash line for a line result that's on the thin side (if you're afraid of messing up, try dabbing on dots along your upper lashes, then slowly connecting them.) Or, for a thicker line or cat eye look, follow up with a second, shorter line slightly above the first, but only along the last third of your lashes), then color in the empty space.
ColorStay Liquid Eye Pens: Sharp, thick or thin lines for a dramatic result
Some people draw a line the sand and dare you to cross it. This eyeliner draws a line above your lashes and dares you to try and smudge it. No surprise then,
ColorStay Liquid Eye Pen
is our most intense (in every sense of the word)
liquid liner
ever. The tip is slim and tapered to give you the flexibility to closely follow the curve of your lash line to draw a sharp line that's thick or thin. And the vibrant, highly pigmented formula won't transfer, smear, smudge, budge or otherwise give up any ground for up to 24 hours.
How To Use It: Simply draw along your lash line for a thin line, or draw a second line above the first (along the last third of your lashes), to get a slightly thicker looking line.